Take To The Lake (Bunyonyi)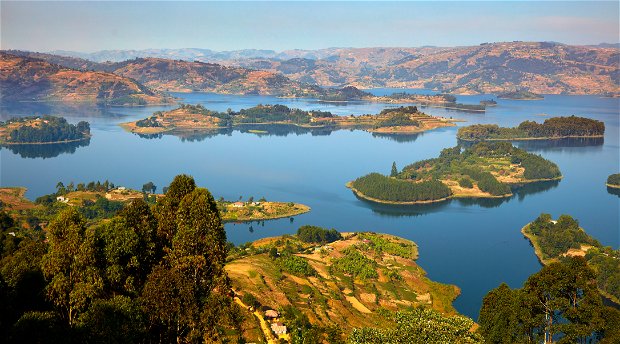 Hop aboard Uganda's epic new Kayoola Diesel Coach, our very own mission vehicle built in with award-winning conservation media specialist Shaban Senyange to experience the 'place of many little birds'. Lake Bunyonyi is an idyllic highland lake, with its many inlets, dotted with islands and bordered by steep terraced farmland. It's one of Uganda's most stunning vistas. The lake lies at 1962 meters above sea level in the Kigezi Highlands of south-western Uganda. This journey is packed with action, entertainment, with plenty of new friends to be made on the coach ride!
Travel in the Kayoola Diesel Coach, a modern coach by Kiira Motors conforming to the Euro IV Emission Standard. Travel in comfort with executive seats, AC, WiFi, USB charging ports, a refrigerator, washroom and allowing passengers to be their own DJs.
Gallery
Itinerary - Take To The Lake (Bunyonyi) [TACP9-041]
Day One
Road Trippin' In The Kayoola Deisel

All aboard the Kayoola bus! Depart from the hustle and bustle of Kampala to drive west passing through vast swamps filled with swaying papyrus throngs and fishermen selling their freshly caught fish on the roadside. Continue your journey by passing the edge of Lake Mburo National Park,watching out for zebras as you drive and of course the herds Ankole cattle with their impressive horns! You will then journey into the hills of the Kigezi highlands, with stunning views over the hillsides carpeted in a patchwork of terraced farmlands, dotted by small farm houses and villages until you reach Lake Bunyonyi which translates as 'place of many little birds'.
Estimated journey time: 8 hrs
Meals not included
Accommodation: Bunyonyi Overland Resort, cabin or furnished safari tent
Day Two
Take To The Lake!

Meet your guide with a motorboat on the shores of Lake Bunyonyi, to explore the lake with its many islands and visit Bushara Island. Your local guide is very knowledgeable about the lake so will be able to give you an insight into the traditions and customs of the local communities. En route to this well-treed 16-hectare private island, you will visit Kyahungye and then Punishment Island where you will learn a few chilling tales of its dark history! You'll hop off at Bushara Island to explore before returning to the mainland. Estimated excursion time: 4 hrs
Spend some time relaxing at Bunyonyi Overland Resort on the shores of Lake Bunyonyi. If you're feeling energetic, [for an additional cost] you'll find traditional dugout canoes available for you to paddle along the lakeshore or a motorboat available to you to venture deeper into the lake. The resort also has a zip line and various nature and bird walks. Of course you can also swim from the dock, relax with a good book or birdwatch with species such as the pied kingfisher and Uganda grey crested cranes to be spied hovering and diving into the water. However you choose to spend your time, you will truly unwind at one of the most idyllic lakes in the Kigezi Highlands.
Meals: breakfast only
Accommodation: Bunyonyi Overland Resort, cabin or furnished safari tent (double occupancy)
Day Three
To The Seven Hills

Depart from Lake Bunyonyi to travel through the picturesque Kigezi Highlands, a scenery of hills and valleys carpeted with a mosaic of terraced farmlands, farmsteads and villages. As you journey north the landscape flattens to undulating hills and plains before you pass the edge of Lake Mburo National Park. Here you should watch out for zebras grazing on the roadside and the herds of Ankole cattle with their impressive horns. On passing Masaka you'll drive through vast swamps filled with swaying papyrus throngs, with fishermen selling their freshly caught fish on the roadside. Before you finally arrive at your destination, the busy streets of Kampala.
Estimated journey time: 8 hrs
Meals: breakfast only
Accommodation: Not included