Meet The Gorillas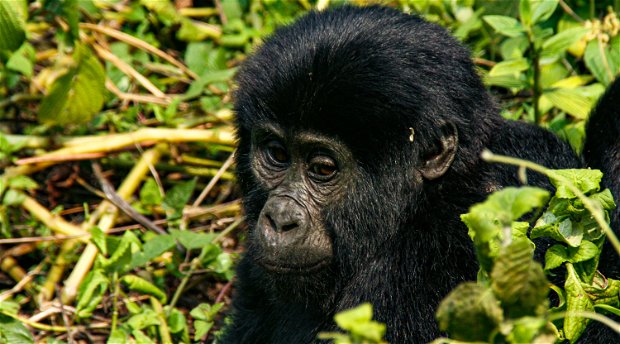 Meet a rare mountain gorilla family in their rainforest home of Bwindi Impenetrable National Park, one of Africa's premier primate experiences! Trek on trails through a pristine rainforest to seek out a close knit family group and view their world as they forage, nurse and bond, surrounded by the sights and sounds of the rainforest! Later you'll meet the local community who will demonstrate life on the boundaries of the national park.
Gallery
Itinerary - Meet the Gorillas [TACP1-001]
Day One
To the Kingdom of Gorillas

Transfer from Entebbe to Bwindi Impenetrable National Park, Ruhija.
Estimated journey time: 11 hrs
[scheduled flight option available to reduce travel time]
Meals included: Lunch, Dinner
Accommodation: Bakiga Lodge, cabin
Day Two
Gorillas in the Mist

Experience Uganda's greatest natural wonder, an intimate meeting with one of Bwindi Impenetrable National Park's gorilla families! Bwindi Impenetrable National Park is an incredibly important conservation site as it protects around 460 mountain gorillas, roughly half of the population left in the wild. Dating back over 25,000 years, Bwindi is one of Uganda's most biologically diverse and most ancient rainforests, with an amazing 400 species of plants present and 350 species of birds, including 23 Rift Valley endemic species recorded. The rangers accompanying you will be able to identify the local plants, birds and wildlife as well as the general ecosystem of Bwindi Impenetrable National Park as you trek. This morning you will rise early and your driver / guide will escort you to the trailhead into the rainforest. Here you will receive an orientation on tracking the gorillas from the Uganda Wildlife Authority rangers who will then guide you through the dense forest. The trek length varies, depending on where the gorillas spent the night, ranging from thirty minutes to seven hours. Once you find these incredible creatures you will spend one hour with them. We think you'll agree - to experience this unique family feed, socialise, nurse their young, patrol and display their prowess - is the most magical experience you can see in nature. After tracking you will make your way back to the edge of the rainforest where you'll meet your driver guide.
Estimated excursion time: 2 - 8 hrs (including 1 hr viewing).
Meet with your local guide to explore the area around Ruhija village, on the edge of the rainforest. This is a great way to meet local members of the community as they go about their everyday lives. On your walk you will be visiting some of the local handicraft shops, where the local craftspeople fashion a variety of crafts including fabrics, beeswax candles and hand carved wooden ornaments, a great place to pick up an authentic souvenir from your travels. Your guide can help with what is authentic and bargain a fair price. You will then move on through the village with the chance to meet other local residents, including a traditional healer who will share the secrets of medicinal plants and the local brewer to learn how the locally produced bananas are used to make a variety of juices, gins and beers. You can even try and taste if you choose!
Estimated excursion time: 2 hrs
Meals included: Breakfast, Lunch, Dinner
Accommodation: Bakiga Lodge, cabin