Lake Mburo Weekend Getaway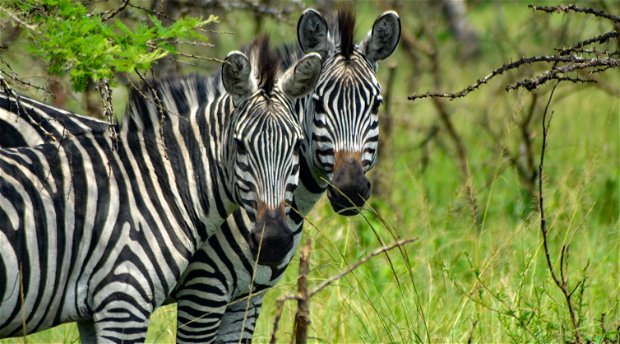 Duck out the office early on Friday for your long family weekend! Lake Mburo National Park is the perfect destination for kids, with herds of zebra and antelope to spot as well as the giraffes grazing towering over the grasslands. A safe spot for walking and mountain biking safaris! Your family friendly lodge boasts a pool for play and downtime, as well as a baby sitting service for the little ones if needed! All located within a half day from Kampala, it's the perfect spot for a family getaway.
Gallery
Itinerary - Lake Mburo Weekend Getaway [TACP7-029]
Day One
A Night in the Park

Drive from Kampala or Entebbe to Lake Mburo NP.
Estimated journey time: 5 hrs. 
Spend some time relaxing at your lodge, with a stunning savannah landscape of rolling hills, acacia trees and rocky outcrops laid out before you. Refresh yourself by cooling off from the heat of the day in the lodge swimming pool or relax on the shaded sun loungers. The lodge also has a large open sided thatched dining / lounge area complete with a bar, where you're more than welcome to catch the breeze and watch the world pass by. Your room also has a private shaded area if you wish to unwind in seclusion.
As darkness falls across the savannah, set out to explore the network of tracks criss-crossing the landscape to observe the secret lives of the wildlife. You'll be accompanied by an expert Uganda Wildlife Authority ranger, who will be scanning the savannah forest with their spotlights to search for a variety of species including the genet cat, bush pigs and hippos grazing amongst the acacia trees. This nocturnal game drive also provides an excellent opportunity to seek out some of the park's top predators including spotted hyena and one of the highest chances of seeking out the solitary leopards of anywhere in Uganda! After several hours scouring the park and hopefully some top wildlife sightings, you'll be returned to your lodge for the remainder of the evening.
Estimated excursion time: 2hrs 30 mins
Meals included: Lunch, Dinner
Accommodation: Rwakobo Rock, thatched cottage.
Day Two
Bikes, Boats and Wildlife

Take to the sandy paths and tracks meandering through Lake Mburo National Park with mountain bikes for your bush biking safari. This activity is a great opportunity to get out of the vehicle and experience the landscape from a different perspective, to enjoy the sites and sounds of nature more intimately.  You will be joined by an experienced biking guide, who will show you the route so you don't get lost, as well as help you spot the wildlife. There are plenty of game herd species such as Burchell's zebra, impala, warthog, topi, bushbuck and waterbuck which wander out of the park boundaries for you to spot along the way. Your guide will also help you tailor the route to suit you whether that is a gentle family ride or taking a more extreme route through the African bush.
Estimated excursion time: 2 hrs
Lake Mburo National Park protects an idyllic patchwork of rolling hills and acacia woodland studded with rocky outcrops, creating an alluring backdrop to view the park's game herds. On your wildlife drive you'll have the chance to spot some species rarely seen in other parts of Uganda, including large herds of impala, Burchell's zebra and eland; Africa's largest antelope species, which in Uganda is only found here and in Kidepo Valley National Park. More common species grazing on the grasslands also include families of warthog, buffalo, oribi, waterbuck, reedbuck and with a bit of luck the Rothschild giraffes. These graceful giants were reintroduced to the park landscape from Murchison Falls National Park in 2015 and can often be found grazing on the park's acacia trees. This small population of giraffe is successfully growing and further protecting this endangered subspecies.
Estimated excursion time: 3 hrs
From the shores of Lake Mburo embark on a water safari with a local skipper who will share their knowledge on the Lake Mburo-Nakivali wetland system. Lake Mburo is known for its high diversity and density of birdlife, with 350 different species recorded living along the shores including African Finfoot, White-backed Night-Heron, Papyrus Gonolek, Shining-blue Kingfisher, Giant Kingfisher. The lake is also home to a large hippo population numbering around 1000 individuals, which you can hear call across the water as they wallow in the shallows, dwarf crocodiles basking on rocks and monitor lizards rustle the papyrus as they climb through the reeds all of which are regularly sighted when exploring the lakeshore!
Estimated excursion time: 2 hrs
Meals included: Breakfast, Lunch, Dinner
Accommodation: Rwakobo Rock, thatched cottage.
Day Three
A Walk on the Wild Side
During the cooler hours of the day you will be driven into the heart of the park to meet a Uganda Wildlife Authority ranger. Your knowledgeable guide will be escorting you throughout walking safari in Lake Mburo National Park and be able to give you detailed information on the wildlife inhabiting the park. You'll have the option of walking along the banks of Lake Mburo itself or out onto the savannah plains of the park. Walking safaris are an excellent way to view the park and get up-close-and-personal with the animals which includes warthogs, zebras and impala. If you're lucky you will also be able to find the small group of giraffes which were reintroduced to the park in 2015. Tracking on foot and watching these graceful animals grazing on the acacia trees will give you a different perspective than game driving in your vehicle and is a truly special experience. Don't worry, you're perfectly safe with your Uganda Wildlife Authority ranger from the wilder animals in the park!
Estimated excursion time: 3 hrs
Drive from Lake Mburo NP to Mpambire.
Estimated journey time: 3 hrs. 
As you drive along the edge of Mpanga Forest stop off at Mpambire, renowned for its history of crafting traditional drums. These local drum makers have passed down the techniques and skills from generation to generation to create Uganda's most renowned drums. Wander around the village with your guide who will be happy to explain the drum construction, show some drumming techniques and of course you can give it a try yourself!
Estimated excursion time: 1 hr
Drive from Mpambire to Kampala or Entebbe.
Estimated journey time: 2 hrs.
Meals included: Breakfast, Lunch
Accommodation: Not included.